Executive News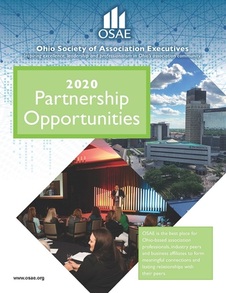 Executive News is published monthly by the Ohio Society of Association Executives. The opinions expressed herein are those of the authors and do not necessarily reflect the opinions or position of OSAE. The member subscription rate is $12, which is included in the annual dues. Editorial contributions to any area of association management are welcome. Articles accepted for publication are subject to editing by our organization. Article submissions should be sent to Jarrod A. Clabaugh, CAE via email.
Want to get noticed by industry thought-leaders and decision-makers?
Please select this link to download the OSAE 2020 Media Kit.
Got questions about the magazine or other advertising opportunities?
Please contact the Wyman Company's Katie White via email or phone: (352) 388-7031.