Complete Story

04/01/2013
2022 Host CVB: Explore Licking County
Explore Licking County
Welcome Association Professionals, CVB Leaders and Industry Partners to the 2022 OSAP Annual Conference!


2022 OSAP Annual Conference July 20-22, 2022



Explore Licking County is among one of Ohio's most beautiful locales. Through collaboration with its business partners, Explore Licking County aspires to provide unique, educational and fun experiences for both visitors and residents in Licking County.
Explore Licking County's Vision:
We will promote our partners' businesses attract new visitors and create memorable experiences for residents and visitors in Licking County using new and existing communication channels.
The Economic Impact of Tourism
Licking County's tourism industry is contributing $422 million annually to the Licking County economy, which is a $32 million increase over the past 7 years. Part of Explore Licking County's mission is to educate its partners and communities on the importance of this number and encourage them to work together to see it grow.
The OSAP 2022 CVB Tour
Kick off your morning at 10:00 a.m. at Just Write, which is located at 221 E Broadway, Granville, Ohio 43023. The business' owner/operator, Stefanie Lauvray, will provide you with a $10.00 voucher to shop at her store and a printed guide for Granville.
The guide brochure will encourage you to take a self-guided tour of the Granville Historical Society before you stroll down Broadway. Pay a visit to Green Velvet, Wine Cache, Readers' Garden Book Store, Goumas Confectioners, just to name a few one-of-a-kind shops.
Complete your day in Granville at 12:00 p.m. with a limited menu dining experience at the historic Granville Inn located at 314 E Broadway, Granville, Ohio 43023.
Transportation to/from Granville is not provided; however, all parking in Granville is complimentary.
What Do You Know About Licking County?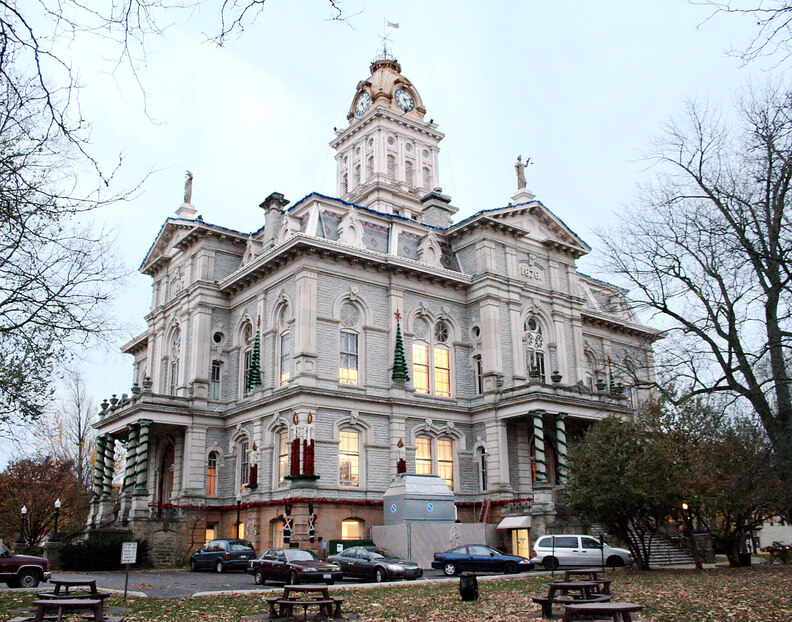 Licking County is a located in the central portion of the state of Ohio. As of the 2020 census, the population was 178,519. With its county seat located in Newark, it was formed on Jan. 30, 1808, from portions of Fairfield County.
The county is named after the Licking River, which is believed to be named for the salt licks that were in the area. However, one account explains it as an English pronunciation of the river's indigenous Delawarename W'li/'ik'/nk, which means "where the flood waters recede."
Historically, the county is famous for its connection to several Native American earthworks, including the Great Circle Earthworks, Octagon Earthworks and Wright Earthworks. The Ohio History Connection has preserved these three sites, known collectively as the Newark Earthworks. Other important native sites in Licking County include Blackhand Gorge and Flint Ridge.
The county is predominantly rural, with less than two percent of the county's 687 square miles consisting of urban areas. The county seat is Newark, with a population of 46,279 people. It was the county's largest community in 2000. Licking County experienced a significant increase in population, roughly 13.4 percent, between 1990 and 2000, raising the total number of residents to 145,491 people. The county averages 212 people per square mile.
Retail positions and service industries are Licking County's two largest employers, with manufacturing businesses and government a distant third and fourth. Farming ranks fifth. Some of the counties larger employers include Denison University, The Ohio State University at Newark, Kaiser Aluminum, Owens-Corning and State Farm Insurance. The county was once home to the Heisey Glass Company and the American Bottle Company, which was the world's largest beer bottle manufacturer during the early part of the 20th century. In 1999, the per capita income in the county was $26,891.
American Civil War soldier Johnny Clem, also known as John Joseph Klem and as the "Drummer Boy of Shiloh," is among the county's more prominent residents.
Explore Licking County promotes the region as a destination for tourists, strengthens the Explore Licking County brand locally and nationally, and creates economic development through the leisure, group (both nonprofit and for-profit) and business markets.
Exhibitors
Thank you to OSAP's 2022 Annual Conference Exhibitors and Event Sponsors.

They are:
Platinum Sponsor: Saling Simms Associates
Gold Sponsors: Destination Toledo, Experience Columbus and Kalahari Resorts & Conventions - Sandusky.
Silver Sponsors: LIG Solutions, Ohio Shores & Islands, TCS Software and Visit Canton.
Bronze Sponsors: i3 Merchant Solutions and The Ohio Trucking Association
Benefactors: Burgie MediaFusion, Clark Schaefer Hackett, The OSAP Foundation, Picture America and Results@Hand.
Our exhibitors (sorted alphabetically):
Chautauqua County Visitors Bureau
Dayton Convention & Visitors Bureau
Destination Cleveland
Destination Toledo
Dublin Convention & Visitors Bureau
Duke Energy Convention Center
Experience Columbus
i3 Merchant Solutions
Intergenerational Communication Solutions
Kalahari Resort & Convention Center
LIG Solutions
Picture America
Remarkable Lake County
Results@Hand
Saling Simms Associates
Sedgewick
Shores & Islands Ohio
TCS Software
The Summit Hotel
Visit Canton
Visit Cincy