Complete Story

04/15/2019
2019 Exhibitor Policies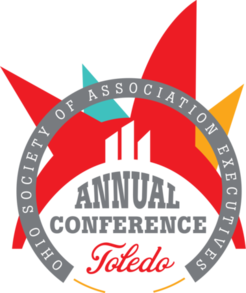 BOOTH ASSIGNMENT: Exhibit space is assigned based on receipt of contract with payment. All contracts received with payment will be confirmed with booth number on a space available basis by email following May 19, 2019. If seeking a preferred space next to an industry partner, it is the responsibility of the exhibitor to coordinate with that partner for floor space. OSAE reserves the right to determine the eligibility of any company or product for inclusion as an exhibitor.
ADDITIONAL BOOTH REQUIREMENTS: Additional items, including electrical connections may be purchased directly from the Renaissance Toledo Downtown Hotel. Please contact the hotel to make these arrangements.
EXHIBIT INSTALLATION & REMOVAL: Installation of exhibits will be from 11:00 a.m. - 2:00 p.m. on Wednesday, June 19, 2019. Dismantling should be done following the closing session, which ends at 12:00 p.m. on Friday, June 21, 2019. All materials and displays not dismantled by 1:00 p.m. (or arranged for dismantling) will be discarded.
EARLY TEAR DOWN/LIQUID DAMAGES: Due to the difficulty of determining and detailing the losses which would result from the dismantling of exhibit space prior to the close of the event, the exhibitor agrees to pay $150 as liquidated damages (and not as a penalty) if the exhibitor begins dismantling of exhibit space prior to the close of the event at 12:00 p.m. on June 21, 2019.
DOOR PRIZES: Exhibitors are welcome to bring door prizes. Exhibitors are responsible for collecting business cards at their tabletops and conducting a drawing to determine the winner. OSAE will be pleased to announce the winners at the conclusion of the conference on June 21, 2019. In the event winner is not present, it is the exhibitor's responsibility to deliver/ship the item to the winner.
CANCELLATION POLICY: Cancellations must be made in writing (e-mail or fax is acceptable) and cannot be taken over the phone. Cancellations are effective as of the date of receipt. Any exhibitor cancelling booth space on or before May 19, 2019 will receive a full refund. Any exhibitor cancelling space between May 19 - June 7, 2019 forfeits 50 percent of the total rental cost for each booth requested. Any company cancelling after June 7, 2019 forfeits the entire booth rental fee (no exceptions). Any exhibitor cancelling with a balance due is responsible for paying the remainder in full within 30 days of the cancellation.
NO SHOW POLICY: Exhibitors are considered "no show" if a company does not occupy and exhibit in the designated space by 2:30 p.m. on Wednesday, June 19 and has not given OSAE the required written notice of cancellation. OSAE has the right to use "no show" exhibit space in such a manner as it may deem in the association's best interest. Failure to occupy exhibit space does not relieve the exhibitor from their obligation to pay the full booth rental fee.
LIABILITY: Exhibitor agrees to indemnify, hold harmless, and defend OSAE or the Renaissance Toledo Downtown Hotel and their respective members, officers, directors, agents and employees ('Indemnities') forever harmless from and against any and all liabilities, damages, actions, losses, claims, and expenses (inclusive of attorney's fees) on account of personal injury, death or damage to or loss of property or profits arising out of or contributed to by any act, omission, negligence, fault or violation of a law or ordinance by the exhibitor or its employees, agents, contractors, patrons and invitees. Exhibitor hereby waives each and every claim that arises or may arise in its favor against any one or more of the indemnities for any and all losses of damage covered by valid and collectible insurance. Such waiver precludes the assignment of any claim by subrogation or otherwise.
INSURANCE: OSAE will not be liable for loss or damage of any article of equipment or property of exhibitor that may be suffered during installation or removal or during the exhibit by reason of robbery, fire, accident or any other destructive cause. Insurance may be placed by the exhibitor. If you choose, please have your insurance agent or company provide proof of general liability coverage by issuing a certificate of insurance and naming OSAE as an Additional Insured.
LOST OR STOLEN ITEMS: OSAE is not responsible for lost or stolen items.
---